'If You Ever Dream Of Beating Me, You Better Wake Up And Apologise!'-Muhammad Ali Has Died.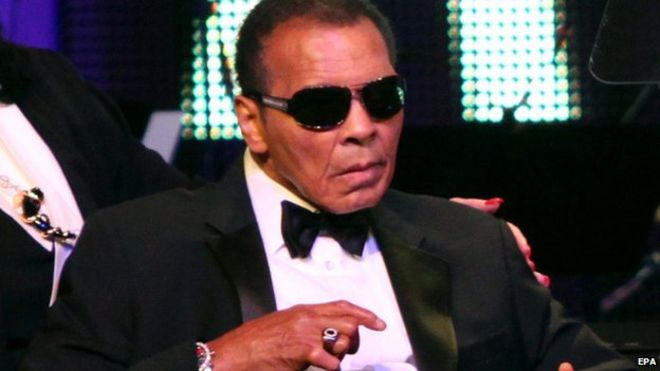 Three Times World champion, and Olympic Gold Medalist, the fast, agile, big hearted, entertainer, muslim, legendary boxer, arguably the most famous  name on the globe, boxer Muhammad Ali has died, after being rushed to hospital, over a day ago due to breathing difficulties and eventually ending up in ICU yesterday.
He was born,  Cassius Marcellus Clay Jr on January 17, 1942,  and passed away at the age of 74  suffering from parkinson disease since 1984, having married four times in life.  More news to follow.
He was a close friend of radical  Black activist Malcom X and famously refued to enlist in the army when the Vietnam war was raging on in 1967.
He is  famously remembered for saying, .'You look at Miss Ammerica, you see white, you look at Miss Universe, you see white, even Tarzan and the King of the jungle in Africa, you see white', going on to fight for equality of all races. By Sibusiso Ngwenya
photo-BBC-Legendary boxer Muhammad Ali, pictured at a celebrity boxing match in 2012